Welcome to Sweet Tooth Pediatric Dentistry, the office of Dr. Erica Pitera! We serve families of infants, toddlers, adolescents, teens and those with special healthcare needs of all ages.
The mission at our office is to provide the best comprehensive dental care for all children in a friendly, safe and state-of the-art facility. We want your child to develop a positive attitude toward dental health and learn the necessary skills to maintain a cavity-free smile for a lifetime. Together we have a staff of professionals with decades of experience of working with children, and we love what we do!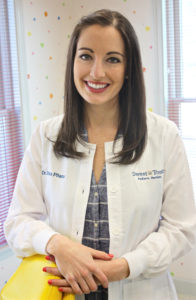 Dr. Erica Pitera, or Dr. Erica as she goes by in the office, grew up locally in Cromwell, CT and graduated from Cromwell High School. She went on to receive her BS in biology from Duke University. She earned her DMD at the University of Connecticut School of Dental Medicine and was awarded for achievement in dental care for patients with special needs and for her leadership in the American Student Dental Association. Dr. Erica then completed a two-year specialty residency program in pediatric dentistry at Columbia University.
 Dr. Erica is a board certified pediatric dentist who specializes in providing comprehensive oral care to all pediatric and adolescent patients. In addition to her many professional memberships, she is also a Diplomate of the American Board of Pediatric Dentistry and a member of the medical staff at Connecticut Children's Medical Center in Hartford. She values continuing education and strives to stay up to date with all the latest dental treatments and techniques.