Did you know the American Academy of Pediatrics and American Academy of Pediatric Dentistry recommend that all children see a dentist by age one? At Sweet Tooth Pediatric Dentistry, we love seeing babies in our office to help their parents learn everything they need to know about an infant's growing smile! Although a baby may only have a few teeth, we see our first visits with infants as an important opportunity to educate parents to help ensure a lifetime of healthy teeth.
Here's a collection of Dr. Erica's Top 5 Tips for parents of children with new teeth:
FIRST VISIT BY THE FIRST BIRTHDAY: The American Academy of Pediatric Dentistry recommends that your child see a pediatric dentist by 12 months of age to receive early examination and preventive care to get him started on a lifetime of good dental habits.
LITTLE TEETH, BIG PROBLEMS: Believe it or not, even babies can get cavities. Untreated baby teeth with decay can become infected and cause dangerous complications. Healthy baby teeth are also important for proper form and function, and to allow the permanent teeth to develop normally and with adequate space.
SIP SMART: Never let your baby fall asleep with a bottle filled with anything other than water, and always avoid putting juice in a bottle. If she uses a sippy cup, hard tipped ones are best. Only offer water in between meals and limit juice to less than 4 ounces once a day.
BRUSH, BRUSH, BRUSH! As soon as the teeth erupt, they should be brushed twice a day with fluoride toothpaste. Because babies are not able to spit, only a tiny "smear" of toothpaste is recommended under the age of 2. If the teeth are touching, you'll also need to use floss to clean out any food or bacteria that bristles can't reach.
TEETHING BLUES: Signs of teething include crankiness, lack of appetite, and excessive drooling. You can relieve discomfort with frozen teething toys, a cold wet washcloth, or by gently massaging the gums. Acetaminophen (Tylenol) may help soothe sore gums before bedtime.
To schedule your child's first visit, give our office a call at (860) 347-4681. We are conveniently located at 583 Saybrook Road, Middletown, CT. We look forward to meeting you soon!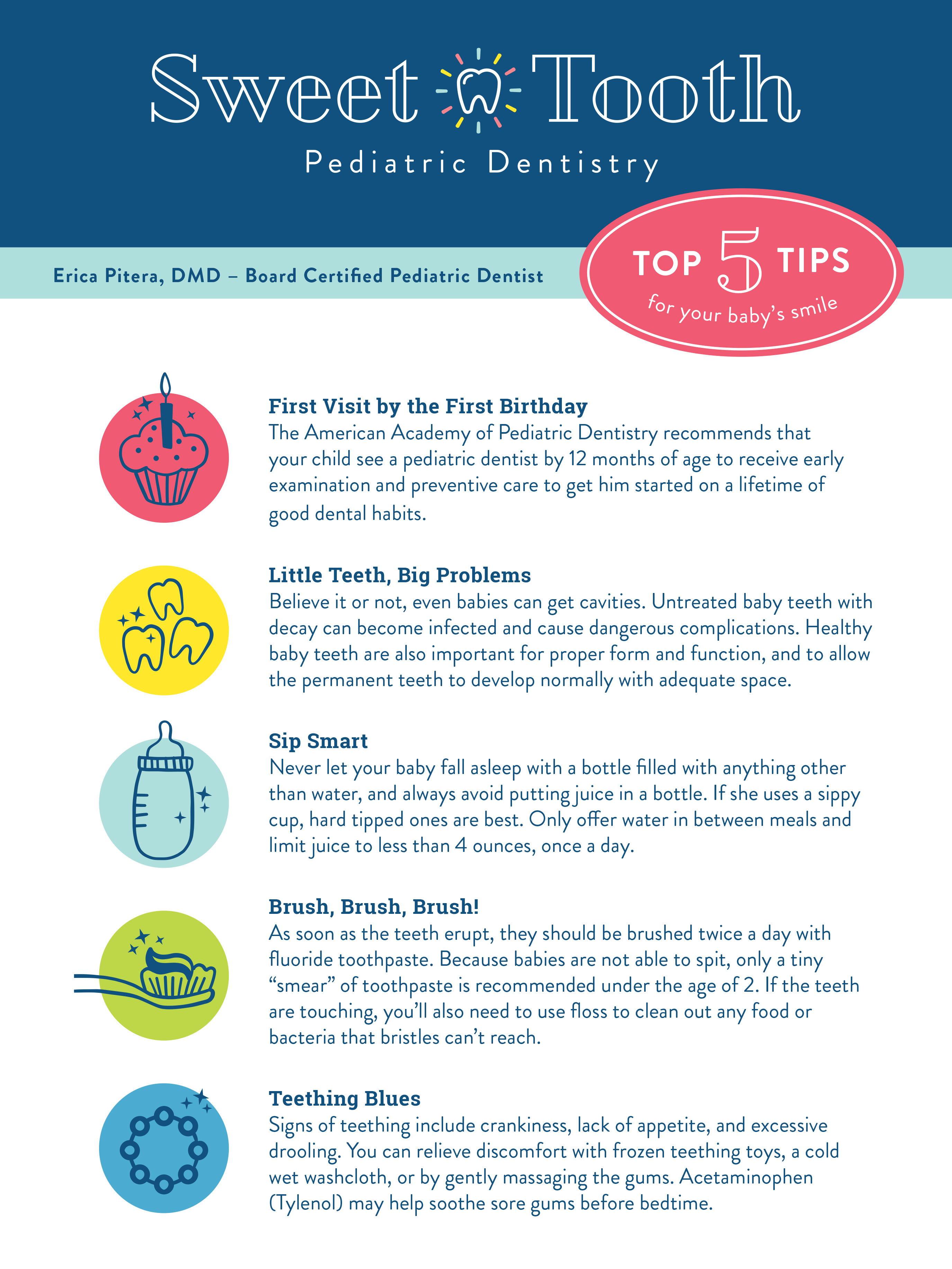 Sweet Tooth Pediatric Dentistry
Erica Pitera, DMD – Board Certified Pediatric Dentist
583 Saybrook Road
Middletown, CT 06457
(860) 347-4681
www.sweettoothkids.com